About Us
Schuh Painting is proud of our storied history as house painters in Mitchell, SD. Originally started in 1955, our professional painters have seen just about everything through the years! Arnie Schuh, the original owner, sold the business to his son Arlen in 1987. In 2007, current owner Jim Gramm purchased the business. For the first time in over 50 years, the business changed hands from one family to another.
Since then, Schuh Painting has expanded beyond Mitchell, SD to become a regional leader in the painting business. We're still known for our excellent quality of work and attention to detail, and today, we've grown to welcome any and all home and commercial projects, both interior and exterior. We've also added shop space where we offer pre-painting and pre-finishing for woodwork.
Our Strive for Excellence
Do you have a difficult project? Have other painting contractors said no? This is when our attention to detail with an uncompromised finish sets us apart. The employees at Schuh Painting have over 55 years' combined experience, allowing us to complete even the most difficult projects on time, under budget. We hold ourselves and our work to a superior standard—one we're certain will impress you.
Projects and Customers
You name it and we've probably completed a similar project! Our diverse scope of work over the past decades has made us the professional painter area companies call for jobs big and small. From run-of-the-mill walls and ceilings to delicate finishing pieces and complex structures, we don't leave until the work's done right.
Churches
Garage floors
Hospitals
Houses
Hunting lodges
Manufacturing facilities
Metal buildings
Nursing homes
Office buildings
Repair shops
Stairwells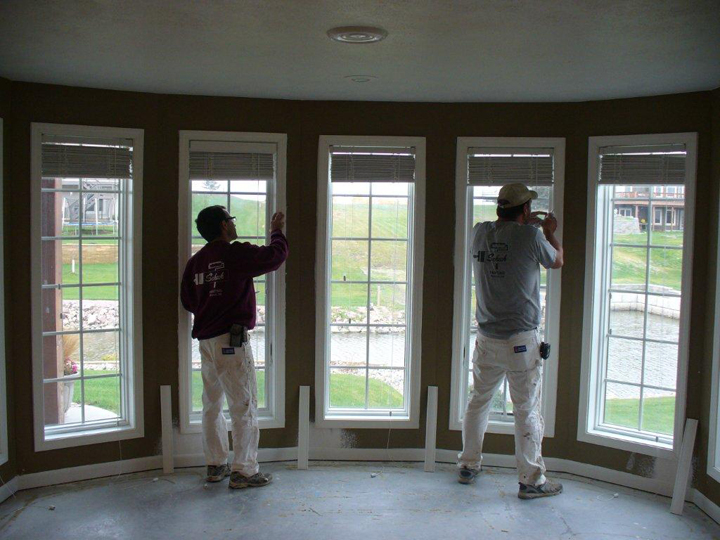 Call the Painting Experts
Whether you're looking to update or freshen up your home, office or another type of space—or are in the process of building new—contact Schuh Painting at 605-996-1243 for a pricing quote. Let us show you why we're among the most reputed painters in Mitchell, SD and how we can transform your home.